Italian food has some of the most flavorful and rich cuisines in the world, and knowing how to read the menu of an authentic Italian trattoria will never fail to come in handy. Not only will the language help you decipher the intricate delicacies, but also assist in describing them as accurately as possible. The Italian language has the record number of words that illustrate foods and their incredible essences. Italy is very serious when it comes to food, and for good reason! The gastronomy varies from region to region, but consistently manages to remain scrumptious no matter what kind of dish is indulging in. Someone once said, "My favorite meal in Italy is my next one!"
…About the noodles
The delegation of Bologna of the Italian Cooking Academy has evaluated that the real Bolognese noodle is eight-millimetres wide, the equivalent of the 12.270th pert of the height of the Asinelli Tower. Differently, they have not detailed the noodle's thickness, although experts think it has to be six/eight tenths of a millimetre. A gold sample of the noodle, gift of the Academy, is shown in the Chamber of Commerce in Bologna.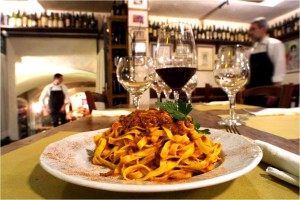 …About the Mortadella Bologna
The name Mortadella seems to trace its origin from mortarium (mortar), a device used to beat the pork meat. The mortadella is produced from Emilia Romagna to Latium and it can be considered the most famous cooked sausage of the Bolognese tradition, with its historical birth in the XVIth century. Late in the Renaissance the historical and literary texts speak about this product and its appearance  on the Italian tables. In 1971 Monicelli shots the film "The Mortadella", where Sofia Loren is a Neapolitan who works for a well-known Emilian dressed pork factory. She files to New York to reach her fiancée. But the two stars, Mrs. Loren and the famous sausage, are stopped at the airport: in those years the American law prohibited the entrance in America to the specialty of the Bolognese tradition.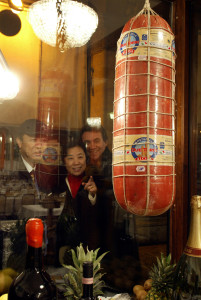 RECIPE FOR THE GREEN NETTLE NOODLES WITH BOLOGNESE MEAT SAUCE
For the dough
500g flour "0"
4 eggs
150g fresh nettles
For the meat sauce
extra-virgin olive oil to taste
butter to taste
1 celery stalk
2 carrots
1 onion
300g minced pork loin
300g minced beef sirloin
½ glass of red wine
½ kg fresh or peeled tomatoes
salt to taste
pepper to taste
Directions:
On the work surface make a well with the flour and place the eggs in the centre. Mix the flour with the eggs and the fresh nettles, which have already been quickly boiled and carefully drained. Knead the dough and roll it with the rolling pin. Let rest. In the meanwhile, heat the oil and butter in a skillet, and sauté the vegetables. Add the meat and let flavour. Add the wine and let evaporate. Add tomatoes, salt and pepper and simmer gently for at least four hours (six hours would be perfect).
Excerpt from:
When Food is Love
The Cesarine of Emilia Romagna
Author: Egeria Di Nallo
The Association for the Safeguard and the Exploitation of the Gastronomic-Culinary Wealth of Italy, with the Home Food project supported by the Ministry for the Agricultural Policies, by various Italian regions and realized in cooperation with the University for Bologna, enhances and spreads traditional food's culture strictly linked to the culture of a territory and its typical  products. Only in this sense it is possible to be welcomed by Italian families and taste foods cooked by the ladies of the house, heiresses and repositories of the culinary old ways and methods. Guests, as well as the ladies of the house called "Cesarine", are all members of the Association