Bologna, the Città Rossa, is red tiled roofs, red bricks, and red-washed stucco palazzos that line narrow streets radiating around a picturesque historic center. With its twelfth century towers, piazzas, and more than twenty-five miles of porticoes, a walk in Bologna is an opportunity to feel immersed in the past, while enjoying the charm of a modern city. Perhaps 'red' refers to the history of the city as a bastion of Italian-style Communism as well!
Bologna, the La Dotta is home of the Alma Mater Studiorum, the University of Bologna, the first university of the Western World, established in the year 1088 and an important thread in the city's history since. The porticoes, the mercantile spirit, the international nature of the city find root in that important past.
Then there is Bologna La Grassa, the Fat City, for which she has always been famous. Just a list of the noted dishes explains it well: a mound of freshly made tagliatelle topped with meaty ragù Bolognese and plenty of grated Parmesan cheese; tortellini floating in their savory meat broth; thinly sliced, satiny smooth Mortadella Bolognese; and fresh and aged cheeses too numerous to name.
Discover the treasures of a truly remarkable city—Bologna: La Rossa, La Dotta, La Grassa.
Mary Tolaro Noyes
The American writer and Bologna enthusiast Mary Tolaro Noyes likes to say she has been seduced – unexpectedly – by Bologna. She published two books about the city, "Bologna Reflections – An Uncommon Guide" (2009) and "Gathering Chestnuts – Encounters Along the Way" (2013).
BOLOGNA REFLECTIONS: AN UNCOMMON GUIDE provides the visitor to Bologna with a different approach to encountering a remarkable city. The walking itineraries explore its historical and artististic heritage and point out hidden treasures not often found in traditional guidebooks. The tourist and the armchair traveler alike visit Bologna through the stories that reveal the heart and soul of the Bolognese people, who become the real guides to their city and past. Original drawings and art invoke Bologna's medieval past and celebrate her modern charm, as the visitor meanders in the unknown corners of a seductive city. Practical information, including maps of relevant neighborhoods, assists the traveler in planning the visit and experiencing the city during the sojourn.
Bolonha è una boa escolha para conhecer a Itàlia um pouco melhor
São muitos os motivo. A cidade tem um dos centros histàricos melhor preservados do mundo mas, ao mesmo tempo, è una cidade cheia de vida. Nos sens belos pòrticos, ruas e praces hà muito comércio,bares, restaurantes etc.
As pessoas são simpàtìcas e, embora haja muitos turistas, tem-se a impressão de estar entre italianos. As principais artérias da cidade ficam sem tràfego automòvel entre as 8h de sàbado e as 22h de domingo, o que fai uma agradàvel surpresa. Bolonha tem uma localizacão privilegiada pois acede-se sem dificuldade a cidades como Ferrara e Ravenna, Modena e Parma, Rimini, Mantova, San Marino e Verona. Um pouco mais longe, mas ainda acessìveio, estão Milão, Bergamo, os lagos e Venezia. Bolonha faz aumentar o interesse em conehecer melhor o Itàlia.
Maria Fernanda Alegrìa
Choosing to live in Bologna has been a most fortunate decision for me…
Choosing to live in Bologna has been a most fortunate decision for me, and I've found amazing experiences in every sense. I can smell the fresh pizza coming out of the wood fire oven as I walk down Strada Maggiore; I can hear the street performers singing magically down Via Rizzoli; I can taste the elegant flavors in Bologna's traditional lasagna as I feel the dry sangiovese red wine warm my belly, accompanying the cuisine exquisitely; but most of all, I can see the beauty in Bologna for all of its enchanted culture, rich diversity and lively routines.
Emilia-Romagna is a region like no other. The city-center of Bologna is small enough to walk between any two places in under 30 minutes but also large enough that there is always a new bar or pizzeria to explore. The cultural immersion I've experienced while here has been indescribable. The people are genuine, kind, and more than willing to answer all sorts of questions, pleased to share their wealth of knowledge of the region with everyone who would like to know! I am blessed to live in the center of one of the most diverse cities I've ever visited, mingling with students from all over the world and working with Italian families who show me the true meaning of the word famiglia. Living here is an experience I wouldn't ever give up, not even for all the gelato in the world!
Katelin Geissberger
Bologna through Fumie's eyes
ヨシダ フミエ
ボローニャに在住15年の日本人で、ボローニャ大学にて美術史を専攻。
芸術、カルチャー、イタリアンフード、ワインやグラッパ等に情熱を傾け、エミリア・ロマーニャ州の芸術都市の探訪を好み、常に興味深い場所の発見をしている。
イタリアを訪れたい、また従来の観光地以外の場所を訪れたい日本人の皆様にとって、言語の障壁の無い理想的な案内人です。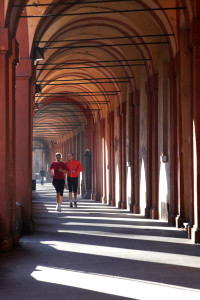 ボローニャは北イタリア、エミリアロマーニャ州に位置する中世の街です。大変静寂な街であると同時に、大変活気のある大学都市です。ここでは1088年に創設されたヨーロッパ最古の大学を見つけることが出来ます。
ボローニャの所在地は、イタリアの最も重要な諸都市へ向かう非常に重要な出発地点となっています。フィレンツェへは列車でわずか35分、ヴェネツィアへは1時間25分、そしてローマへは2時間15分で到達する事が出来ます。
しかしながら、典型的なイタリア生活、伝統、アートを経験し、楽しむ為にボローニャから離れる必要は全くありません。
沢山の美術・博物館、歴史的建造物、伝統的レストラン、大通りの店舗、
そしてそれら以上にボローニャは皆様に本物のイタリアがどんなものなのかを深く味わって頂く事を提供する事が出来ます。
私共の授業は皆様の必要に応じて作られます。
もし皆様が文法や本をあまり好まれず、イタリア人のように生活することによってイタリア語を学ばれたければ、本物のイタリアに飛び込むお手伝いをさせて頂く事は私共の喜びです。
驚異的なモニュメントの数々やアート、建築物をお見せするだけではなく、
ボローニャは皆様に沢山の事をご提供致します。
夕食前の「アペリティーボ」(食前酒)を嗜んで頂いたり、地元の人々と夕人になったり、街歩きをしながら「ジェラート」を食べたり・・・等様々です。
最後になりましたが、ボローニャの近郊にて皆様はいくつかの珠玉のイタリアを発見されるでしょう。
例えば車やオートバイに興味がございましたら、フェラーリ、ドゥカーティ、マセラッティ博物館等見逃す事は出来ないでしょう!
Fumie Yoshida